Walking directions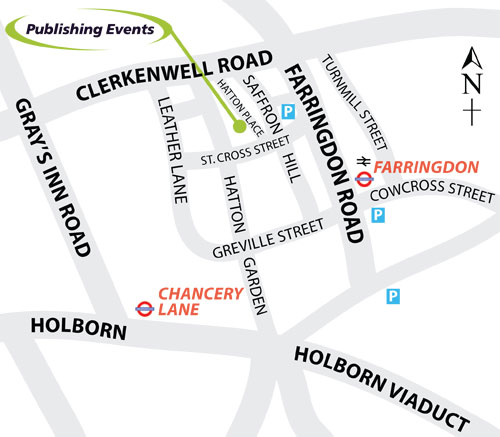 From central London's Farringdon station (Circle, Hammersmith & City and Metropolitan underground lines, and Thameslink / Capital Connect mainline trains), Klarents Media is a three-minute walk. Turn right out of the station main entrance, cross at the crossroad, and walk up Greville Street. After approximately 20 yards, turn right into Saffron Hill. At the next junction, turn left and then immediately right into Hatton Place through the square archway. 18 Hatton Place is on the left.
From Chancery Lane station (Central Line) Klarents Media is a five-minute walk. Leave the station by the Holborn Circus exit ('Exit 2') and walk along Holborn towards the big junction at Holborn Circus. After about 130 metres, turn left into Hatton Garden. Walk about 250 metres, turn right into St Cross Street and after about 50 metres turn left through the square archway into Hatton Place. 18 Hatton Place is on the left.
Public transport
The following bus routes stop close to our office: 8, 17, 19, 25, 38, 45, 46, 55, 63, 242, 243, 341, 521.
The nearest tube stations are Farringdon (Thameslink, Elizabeth Line, Metropolitan, Hammersmith & City and Circle Line) and Chancery Lane (Central line). Click here for directions using TFL Journey Planner.
Driving
Parking: The nearest parking is in the NCP car park, St Cross Street, London EC1N 8XA. (Note: Klarents Media is within the London Congestion Charge zone.)
Our address
Klarents Media Ltd, 2nd Floor, 18 Hatton Place, London EC1N 8RU, UK.